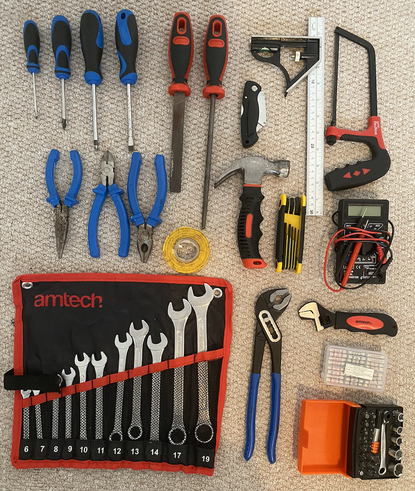 As a passionate craft enthusiast, I firmly believe that every house should have a small but well-curated toolkit readily available for all kinds of emergencies and repairs.
While it may be tempting to buy a generic toolkit with all the tools in one box, I advocate for creating a personalized toolkit by selecting separate high-quality tools that suit your specific needs and budget.
In this blog post, I will share my perspective as an avid tool and toolbox fan, guiding you through the process of building the ultimate house-hold toolkit.
The Toolbox Philosophy
A house-hold toolkit is not just a random collection of tools. It should be treated with respect, much like an emergency service vehicle, always prepared to be grabbed at a moment's notice. There are some rules that come with maintaining a well-functioning toolkit:
Always Put Tools Away: After using the toolkit, each tool should be cleaned and put back in its designated spot. This habit ensures that the toolbox remains organized and readily accessible for future needs.
Replace and Replenish: If a tool is broken and irreparable, invest in a replacement immediately. Consumables like electrical tape and cable ties should be promptly replaced when used up.
Add Tools as Needed: As you encounter new repair or craft tasks, invest in new tools that you do not yet have. Integrate them into your toolkit, giving them a proper home.
The Essential Tools
To create a truly versatile and functional house-hold toolkit, consider including the following hand-picked tools:
Phillips Screwdrivers: Both small and large sizes for various tasks.
Flat Screwdrivers: Small and large, but remember to avoid keeping flat head screws; opt for Phillips screws instead.
Long Nose Pliers: Ideal for reaching tight spots and gripping small objects.
Regular Pliers: Versatile for holding, bending, and manipulating objects.
Snips: For cutting wires and other materials with precision.
Mini Socket Set: A compact and handy set for various nut and bolt sizes.
Spanner Set: An adjustable and fixed spanner set for versatile use.
Hammer: A household essential for DIY tasks and repairs.
Allen Keys: Choose a high-quality set for different bolt sizes.
Torq Bits and Hex Bits: A range of sizes for specialized screws.
Stanley Knife/Multi-Tool: A multi-functional tool for cutting, scraping, and more.
Files: Useful for shaping and smoothing materials.
Voltmeter: Essential for checking battery and electrical charge levels.
Hacksaw: For cutting through metal and plastic.
5-Meter Tape Measure: A versatile length for measuring various objects.
Electrical Tape and Fuses: Essential for electrical repairs and safety.
Cable Ties: Versatile for organizing and securing cables and objects.
Black Sharpie Pen and Pencil: Useful for marking and measuring.
Mini Notebook: Keep track of measurements, tasks, and ideas.
Conclusion
Building a house-hold toolkit from scratch allows you to create a collection of high-quality tools that suit your specific needs. Remember to maintain the toolkit by adhering to the rules, and avoid cluttering it with unnecessary items. By following this guide and adding tools as needed, you'll have a reliable and efficient toolkit that empowers you to tackle any repair or crafting project that comes your way. Happy crafting and DIY-ing!
Thanks
Adrian