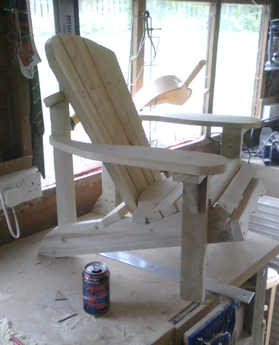 Bear chairs have a special place in my heart. Many years ago, while on vacation in Halifax, Nova Scotia, I was introduced to the Bear Chair by a friend who had purchased a kit. I didn't know it at the time, but the Bear Chair was actually an Adirondack chair. I assembled it for my friend and was pleasantly surprised by its comfort and sturdiness.
The chair was so good that my friend bought another one and asked me to assemble it as well.
I took detailed measurements of the chair and sketched out its shape. Some of the parts were simple lengths of wood, while others, like the arms and sides, required more detailed drawings. Armed with my measurements and sketches, I returned to Scotland and set to work creating my own Bear Chairs.
I started by making templates from thin plywood and used them to mark out each part of the chair on pressure-treated fence boards. I cut out the parts using a jigsaw and then sanded them down to a smooth finish.
A little bit of glue, some screws, and clamps later, I had my first ever Udny Designs Scottish Bear Chair. It was just as comfortable and sturdy as the one I had assembled in Canada. I made a second chair reusing the templates, and they have both been in my garden for 23 years now. They've held up pretty well, though they could use some refurbishing.
Over the years, I've built many more Bear Chairs for friends and colleagues, each with the DNA of the original Canadian chair. I've even created a half-size version for children and a double chair that can seat two people. The construction process has become easier and faster, and I've discovered some shortcuts along the way.